All Ages Dog Training (Part 3)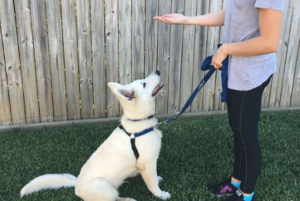 This four-week course is designed to advance your dog's training in the most important life & obedience skills out and about in public places. We work around shopping centres and cafes, tackle the distractions at the beach and dog parks. These are skill sets for life so that you can take your dog anywhere in public and have people admire them. New exercises are taught along with perfecting existing ones.
Additional new exercises
Adding levels of difficulty for existing exercises
Working in highly distracting areas
Preparing for off lead work
Clicker training – sharpens obedience skills
Course Information
4 Week Program
Class duration per week is one hour
Introduction of Clicker Training (optional)
Extension Course from All Ages (Part 2)
Course Materials Provided
Clicker (for those who wish to work with one)
Comprehensive online notes
Week to week video Tutorials
Certificates of Graduation
Telephone and email support throughout class
***NOTE: Video tutorials and notes are for client use only and must not be distributed to anyone. Any breach of these terms may result in legal action.
**To secure place in class payment must be made at time of enrollment – we do not hold places for unpaid enrollments**
https://www.positiveresponse.com.au/adult-dog-training/ages-part-3/
Book Now