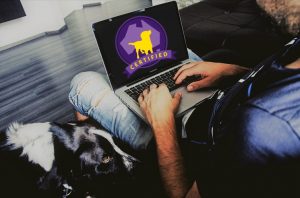 Positive Response Dog Training now offers Distance Dog Training via online resources such as Skype, FaceTime and Messenger Apps.
Virtual training is a great option for those living in regional areas or families who are unable to attend group training sessions.
These sessions are suitable for dogs of all ages and all skill levels.  Can cover:
Cover behavioural issues: Biting/mouthing/jumping/digging/ Toilet Training/ sleep settling
Foundation Learning – Basic Obedience Skills
Reactivity issues
pre-puppy consultation (what you need to introduce your new puppy to your home)
Purchasing an Assistance Dog (what breed, traits, skills, etc. are required)
Please note that your consultation is based around the information you provide us with. There is no such thing as a quick fix. Your dog may require multiple sessions and/or specific products to assist in the modification plan. 
Virtual training sessions can be conducted between 8am and 6pm 7 Days a Week